Hair is unwanted anywhere except on the crow, where it should be in abundance. Hair elsewhere causes itchiness, sweat, and foul-smell and can even harbor germs and parasites unnoticed. Shaving and waxing were the only options for hair reduction till laser treatment became known.
Now, people are aware that laser hair reduction treatment is safe, quick, cost-effective and highly efficient.
This treatment has recently become a popular method of hair reduction from the face and other body parts, its efficacy and long-lasting results have made it a recognized choice in the aesthetic industry, its success story has grown tremendously in the last two decades. best option for Laser Hair removal near Astoria
Laser Hair Removal near Astoria
However, there are certain thing to take into consideration when it comes to Laser hair removal:
First of all, Laser hair removal is a process that removes hairs that a person is unwilling to have. This treatment works by emitting a specific wavelength of light to target your hair follicles at the root, essentially destroying them, and provides long lasting results.
There are many lasers that claim to permanently reduce hair. There are also many practitioners who perform these procedures. The overall results are highly dependent on selecting the correct laser and practitioner. Because lasers are very powerful surgical equipment, only trained personnel should operate or use them and the laser treatment room should have the necessary equipment for safe use of the laser.
Lot of people is still doubting the benefits of laser in opposition to waxing or shaving, so let us list you the reasons why you should always pick laser to remove unwanted hair: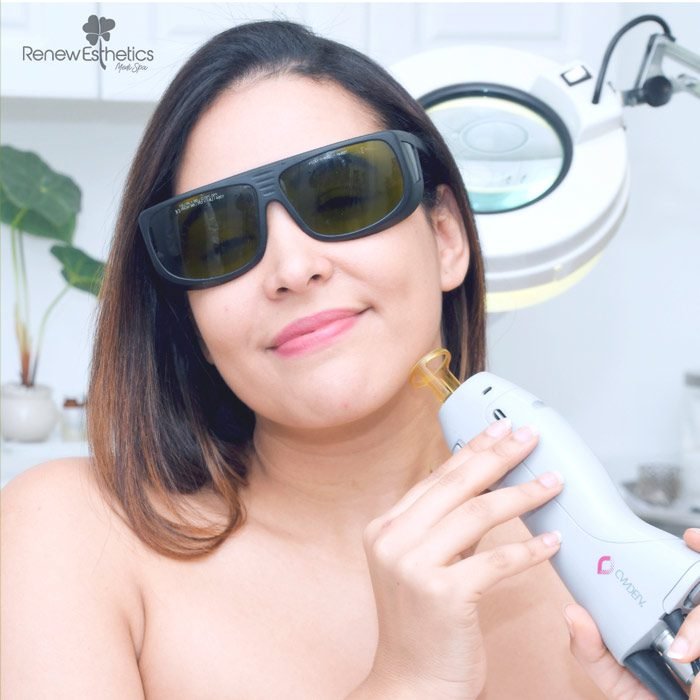 Long Lasting Results.
It is not painful.
Safe treatment, does not cause cancer.
Prevents folliculitis.
Improves pigmentation.
Does not cause irritation.
Hygienic.
Hair is removed from the root.
Laser can treat all areas of the body.
Cost-benefit. The results are long-lasting.
Results are not permanent.
It is painful.
Doesn't stop folliculitis.
The skin tends to get irritated.
The hair is not removed from the root.
It can burn the skin.
Waxing doesn´t reach all areas of the body
Although it is inexpensive, it is not effective. Results last a maximum of 1 week.
Results are not permanent.
It causes ingrown hair to appear.
Constant shaving irritates the skin.
It causes pigmentation.
Shaver can provide infections in delicate zones.
The machine doesn´t reach all areas easily.
Although it is inexpensive, it is not effective. Results last a maximum of 4 days.
Any person can undergo this treatment but in minors with parental consent, there are only some exceptions when there is a history of cancer, when the hair is blonde and in the case of pregnant women and that their treating physician does not authorize it, however, it is a treatment 100% aesthetic that according to the protocol this would not affect the baby's growth; For patient and Company safety we must follow medical recommendations.
The ideal target is dark hair. The laser targets pigment, the darker the hair is, the more focused the energy is, the better the results are. Laser can be performed in all skin types and ethnicities (as long as the hair is darker than the skin color)
How is the procedure performed?
Long lasting laser hair reduction are an in-office procedure. Numbing creams are frequently used to dull the discomfort associated with the procedure. The length of time needed for the procedure depends on the area being treated.
There is minimal downtime associated with long lasting laser hair reduction. Treatment-site redness usually resolves in less than an hour. Skin may be sensitive for a few days (particularly on the legs). Subsequent treatments are planned in 6-to-8-week intervals.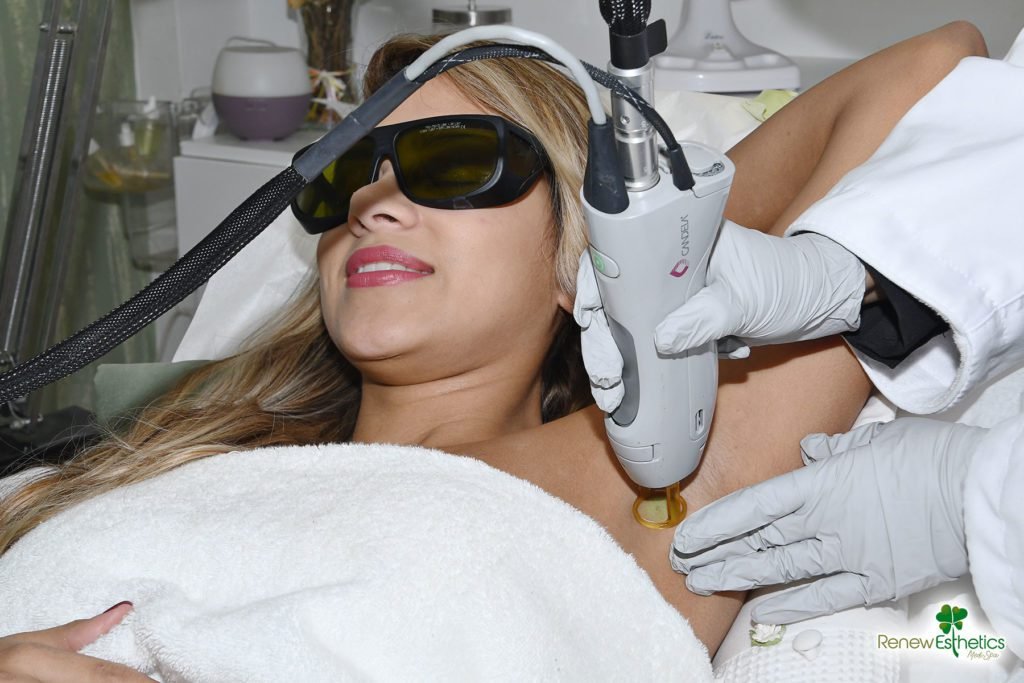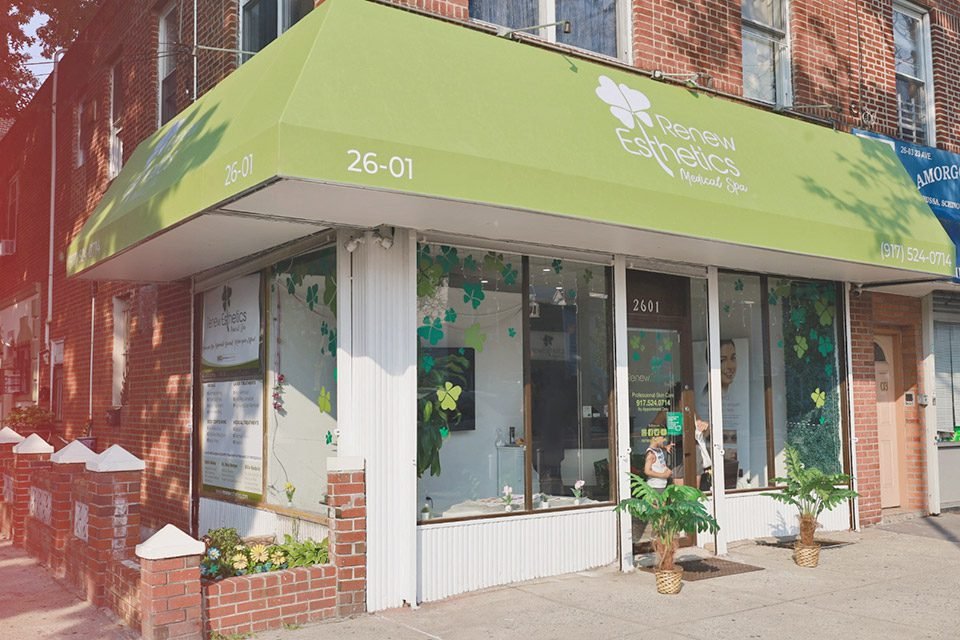 Laser treatments in Astoria NY
We are a Medical SPA located in the heart of Astoria that focus on providing professional quality services using FDA approved technology and following all safety protocols to make sure that our services fulfil their expectations.
What are the expectations?
Laser Hair Reduction is a process; it takes approximately 6 to 8 sessions to achieve the desired results, one session is done every 6-8 weeks so hair cycle is complete and the majority of follicles are destroyed. That means that if you wait until the onset of summer to begin your treatments, you won't be able to fully enjoy your smooth results until the following season. So, if you want to be hair free for next summer or you´re planning to travel to a warm place in the next holiday.
You need to schedule your first laser hair reduction session in fall season, remember, it´s never too early to start preparing for next year.
At Renew Esthetics, the laser hair reduction prices vary according to the size of the areas that you wish to treat; we offer different prices for small, medium and large areas. So, we invite you to come to an initial consultation in order to evaluate your skin, that way we can determine skin type and condition and hair type to be able to provide you with a personalized service.
At the consultation, we explain everything to you about the treatment, including costs and financing options. If you agree with our services, you can start your treatment on the same day, if you don't, we won't charge you the consultation anyway.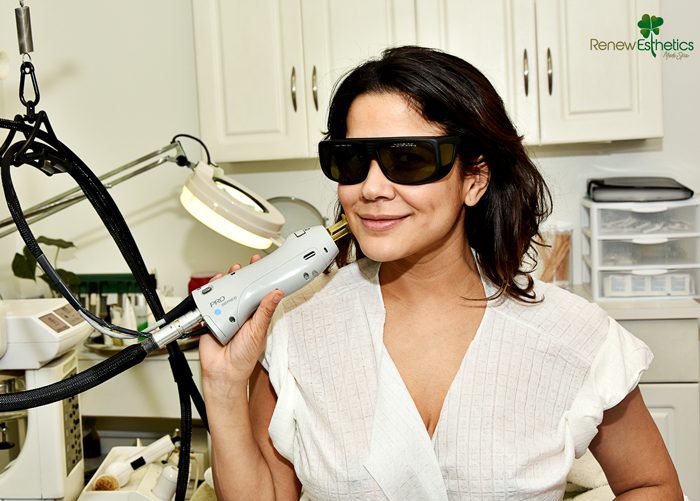 To finish, let´s review some important factors that you need to be aware about laser hair removal:
The costs of laser are higher than waxing or shaving, but be aware that in long terms, laser is the most cost-effective option
The process takes 6 to 8 sessions to get long lasting desired results
ND-YAG Laser technology is the best laser in the market
The aesthetician and the medical spa that you choose, play an important role in the results that you get
It doesn't work well for patients with red, white, or grey hair
Anyone wanting to throw away razors forever, save money in shaving products, or waxing appointments should consider laser hair removal. A little planning will result in the beautiful smooth skin you desire!