Microdermabrasion in Queens NY
A unique dermabrasion technique using diamond tip technology to smooth away fine lines, refine pore size and minimize skin imperfections.
Schedule an initial with our Skincare Experts:
By clicking here, you accept the processing of personal data by Renew Esthetics to receive information about services that the organization believes has potential interest to me.
Miss Universe Visits Renew Esthetics Medical Spa
At Renew Esthetics, we had the pleasant VIP visit of the integral beauty over the years, and in this first chapter she explains the importance of personal care.
Enjoy this "Integral Beauty" series with our CEO and skincare Expert Idalis Bailey as host, only here at Renew Esthetics Medical SPA 💚
Subscribe to our YouTube Channel
Diamond Peel Treatments are the best option
Microdermabrasion in Queens NY for those who do not want any downtime after their treatments, as there are minimal side effects and results may be visible after only one session. A treatment series is highly recommended for clients seeking the best results to address skin aging and resurfacing.
Microdermabrasion is the perfect complement to Photo Rejuvenation treatments. Scheduling microdermabrasion treatments between your photo rejuvenation sessions will help to exfoliate the skin and promote new cell growth. This combination will help prolong the effects of your treatments.
This non-invasive treatment removes the dead and damaged skin cells from the epidermis to stimulate a rejuvenating response from the skin's deeper layers.
Microdermabrasion Before and After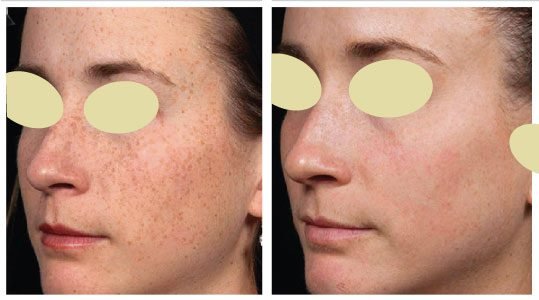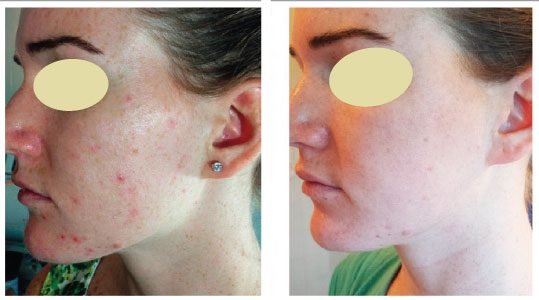 #1 Medical Spa in Astoria NY
FAQ about Microdermabrasion treatment
What is Microdermabrasion?
Diamond Peel Microdermabrasion is a quick, safe, and effective form of exfoliation for all skin types and colors with no downtime and virtually no discomfort. It has been available in Europe since the late 1980's. It is achieved by the use of diamond-tip technology to remove dead or damaged skin cells. Skin will appear softer, smoother, brighter, clearer, and younger looking.
Who can benefit?
Men and women of any skin type or color. Anyone with aging, flaky, dry, devitalized, thickened, blemished, and sun damaged skin will be rejuvenated and refreshed. Blotchy and uneven skin tones will also be improved.
What areas of my skin can be treated?
The most common areas of treatment are the face, neck, shoulders, knees and elbows. Any body area can be treated.
Why Microdermabrasion?
Approximately every 28 days we create a new layer of skin. As new cells form they push their way to the surface and then dead cells settle on the surface. This can cause enlarged pores, clogged pores, a bumpy uneven texture, and a dull appearance. As we age this process slows down leading to the appearance of older skin with less radiance.
How does a diamond peel work?
This gentle exfoliation is performed with a diamond tip passing over the skin's surface by creating a gentle vacuum. Microdermabrasion exfoliates approximately 20-25 microns of dead skin cells of the outermost layer (stratum corneum). Once removed it reveals one's own fresher, younger looking skin beneath. One microdermabrasion is equal to three 30% glycolic peels or one 70%.
How many treatments do I need?
The recommended amount is 6. Treatments are performed every 7-14 days. Treatments are meant to be progressive not aggressive. Results are most noticeable after the 3rd treatment, although, it is common to see results after the first session. Maintenance treatments are suggested once every 4-6 weeks.
How long does it take?
The treatment session is 45 minutes, depending on the body area.
Are there any side effects?
There is little to no downtime. One may experience a slight tingling, and the skin may feel tighter afterwards. Skin may appear slightly flushed and this generally fades in 12-24 hours. You may experience peeling or flaking, this is a sign of the cell renewal process being stimulated. If flaking occurs, simply use an exfoliant recommended by your skin care therapist 3-4 days after the treatment. Genovy Diaz
I was looking for a place like this for a long time, I found it through Annabelle, a colleague of mine who had severe acne and her results were excellent. Today, I am already undergoing my facial rejuvenation treatment with laser, peeling and microneedling. The place is very clean, they respect the COVID regulations, very safe and very professional, I loved their personalized customer service. 100% recommended! Felipe Tehuitzil
Our personal image is very important, Renew Esthetics MediSPA caught my attention when I searched on google for a professional and safe place to have a laser treatment, I found that this place has 5 stars with some good testimonials, today I came to do my complementary consultation and I definitely agree with all the testimonials, Idalis Bailey is very special, she takes the time to explain and educate you how to take care of yourself during and after the laser treatment, the prices are standard or a little higher than other places I visited. I share that it is worth paying a higher price for the quality of personalized service you receive, they have many years of experience, the equipment is new and safe They are also a team of professionals, the treatment was fast and it was not annoying. If you are looking for laser treatment this is the perfect place I recommend it. Perla Villazan
I am so pleased to share today's experience of this awesome place. In I came looking to get my skin renewed, after a long period of abandonment. The owner, a super woman with a really big heart, change not only my skin ( I look AMAZING), but my attitude towards the use of other techniques to improve my looks. Can't thank her enough. Such a professional and sweetheart ! She will be seeing more of me for a long long time ! Totally recommend!