AquaGold fine touch micro-channeling
We are always offering the latest skin rejuvenation treatments and keeping up with the latest effective skincare trends.
Schedule an initial with our Skincare Experts:
By clicking here, you accept the processing of personal data by Renew Esthetics to receive information about services that the organization believes has potential interest to me.
Miss Universe Visits Renew Esthetics Medical Spa
At Renew Esthetics, we had the pleasant VIP visit of the integral beauty over the years, and in this first chapter she explains the importance of personal care.
Enjoy this "Integral Beauty" series with our CEO and skincare Expert Idalis Bailey as host, only here at Renew Esthetics Medical SPA 💚
Subscribe to our YouTube Channel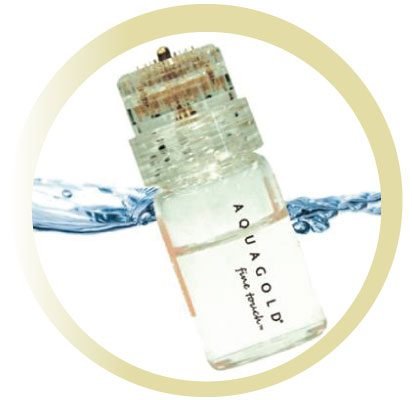 Aquagold Treatment in Astoria NY
AquaGold stimulates the production of collagen and elastin
AquaGold® Fine Touch™ is an FDA approved micro-injection device that delivers a customized blend of products deep into the skin. The small, handheld AquaGold® device contains thin, hollow 24 karat gold needles that are used to create tiny punctures in the skin and deposit product beneath the skin's surface. AquaGold® treatment stimulates the production of collagen and elastin, improves skin quality and texture, reduces the appearance of fine lines, shrinks pores, and boosts hydration.
FAQ about Aquagold Treatment
What Kind of Products Can Be Injected with AquaGold®?
This single use disposable applicator contains a reservoir that can be filled with ingredients tailored to your specific skin needs – such as vitamins, enzymes, PRP, hormones plant extracts, micro quantities of botulinum toxin and hyaluronic acid fillers.
Am I a candidate for a treatment using the AquaGold device?
This single use disposable applicator contains a reservoir that can be filled with ingredients tailored to your specific skin needs – such as vitamins, enzymes, PRP, hormones plant extracts, micro quantities of botulinum toxin and hyaluronic acid fillers.
What makes AquaGold different than other non-surgical facial rejuvenation treatments?
One of the unique aspects of this treatment is that it injects serum at the dermal level. In so doing, this technique addresses multiple concerns at once, including diffuse redness, hyperpigmentation, excess oil production, and more. The advanced technology in this delivery device promotes uniform results in minimal side effects.
What Are the Benefits of AquaGold®?
This treatment helps with brightening dull skin, reducing pore size, increasing skin hydration, refining skin texture, and reducing the appearance of fine lines.
What is the AquaGold treatment process like?
The AquaGold treatment takes less than half an hour from start to finish. Due to the small size of the gold needles, most patients do not require an anesthetic. The treatment itself is customized with carefully selected biologics based on our consultation discussion. After inserting the selected ingredients into the small glass applicator, we press the device directly against the skin. The microneedles are hollow, so ingredients like vitamins, injectables, or dermal fillers get delivered directly into the upper layers of the epidermis as the hand piece is stamped across the treatment area at a perpendicular angle.
How many AquaGold sessions will I need?
This procedure is a gentle mechanism for delivering skin-enhancing ingredients to the epidermis. Therefore, patients may repeat this procedure as often as monthly. Think of AquaGold as a form of injectable treatment on a micro-level. Like traditional injectables and dermal fillers, this technique can be repeated to maintain smoother, plumper skin.
How long after my session will I start to see my results?
Depending on the ingredients used in the AquaGold treatment, it is possible to start seeing results within a day or two. Most patients see the effects of this procedure in 3 to 7 days. These results can last up to 4 months with good skincare and sun protection.
How Long Do the Results Last?
The results of treatment typically last 2 to 3 months. Results can be maintained with periodic treatment.
Is There Downtime?
AquaGold® requires virtually no downtime. Immediately after the procedure, patients may look slightly red, as though they have a mild sunburn. Any redness will subside within 24 hours.
Is AquaGold treatment painful?
The microneedles of the small hand piece penetrate only the uppermost layers of the skin, where the product is needed to address various concerns. The stamping motion inserts needles perpendicularly, avoiding superficial tissue trauma.
What are the risks of AquaGold treatment?
AquaGold treatment is considered very safe with few potential risks. The micro channels made during treatment barely penetrate the epidermis, so they heal within 24 hours. Because the needles are made of gold, it is unlikely that an adverse reaction in the skin will occur.
Aguagold Before and After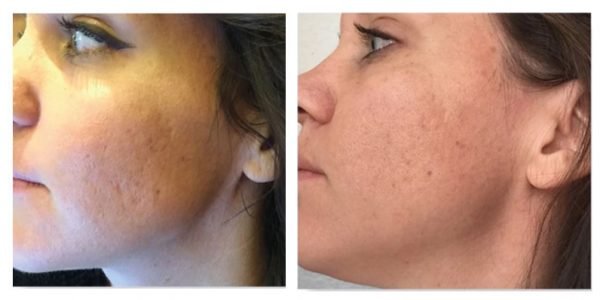 #1 Medical Spa in Astoria NY Dahiana Perez
My skin has always suffered from acne and I can't begin to tell you how much it has changed. I am thankful to have found them. Renew's team will always welcome you with a smile, their customer service is top notch. Book your appointment today, you have found the place you have been looking for. Victoria Nanga
Had my first appointment today with Idalis. She was so warm and welcoming. She took her time and explained step by step what was going on with my skin (I have hyperpigmentation after an acne blast earlier this year). Because I'm in my 30's she also told me what preventative services I need to look my best. She created a regimen which I will be following up with. The office was very clean, quiet and smells like a Zen Garden. Impeccable customer service! M. Rod.
Renew Esthetics was recommended by a friend and I have not gone back to anyone else since then. Idalis takes her time with me and I never feel rushed out or pushed to buy products like I had experienced with other Salons. Her warmth, professional advice and recommendations have been priceless for me. The deep skin cleansing facials have helped me tremendously with my adult acne. My skin has never looked better!! I am now doing the skin rejuvenation treatments and extremely satisfied with the results! This salon is well worth the trip to Astoria!