Laser Skin Tightening Astoria NY
Our skin often shows the first signs of aging. With Gentle Max Pro Lasaer Candela.
Schedule an initial with our Skincare Experts
By clicking here, you accept the processing of personal data by Renew Esthetics to receive information about services that the organization believes has potential interest to me.
Miss Universe Visits Renew Esthetics Medical Spa
At Renew Esthetics, we had the pleasant VIP visit of the integral beauty over the years, and in this first chapter she explains the importance of personal care.
Enjoy this "Integral Beauty" series with our CEO and skincare Expert Idalis Bailey as host, only here at Renew Esthetics Medical SPA 💚
Subscribe to our YouTube Channel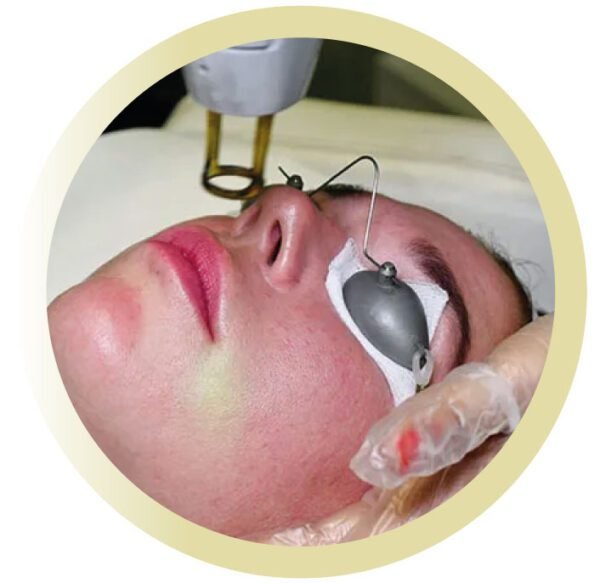 OUR SKIN TIGHTENING TREATMENT:
This highly sought after non-ablative skin tightening treatment is achieved by using a laser beam of high-intensity light to deeply penetrate skin tissue. The laser energy heats the collagen proteins to specific temperatures, creating a natural biological reaction which causes collagen to contract and thicken.
The result of tighter, smoother skin is immediate. In addition to the initial thickening of collagen, heating collagen fibers in this way triggers the body's natural wound response. When skin is wounded, our body instantly works to heal the wound by creating new collagen – delivering immediate results to tighten skin and provide long-term tightening.
The laser and wavelength used is suitable for all skin types, from fair to very dark skin. The treatment is non-ablative; therefore no recovery time is required. You will be able to return to normal daily activities immediately following treatment.
This procedure can also be performed on any other part of the body such as the décolleté, hands, arms, abdomen, and legs.
Laser Skin Tightening Before and After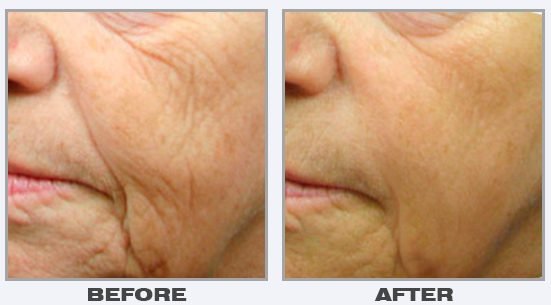 #1 Medical Spa in Astoria NY
FAQ about Laser Skin Tightening Treatment
Does the treatment require anesthesia?
This treatment does not require anesthesia.
Can you sunbathe after the treatment?
After the treatment it is extremely important to protect your skin with a high SPF.
What precautions should be taken after treatment?
It is recommended not to perform aggressive treatments within 15 days because the skin may be sensitive.
What is the best time to get the treatment?
This treatment can be done all year round.
What is the ideal age to begin treatment?
Is the treatment suitable for anyone?
This treatment is suitable for men and women.
How does it work?
Collagen is a water laden protein fiber. The Candela YAG Laser works through a process known as 'selective photothermolysis' that heats up the water in the collagen fiber at specific temperatures and utilizes focused wavelengths to naturally induce new collagen formation (also known as collangenosis). This gentle yet focused heating will slowly rearrange, redistribute and realign new collagen fibers within the dermis of the skin, resulting in facial contouring and rejuvenation.
How much does it cost?
Prices vary based on clients needs.
Main Benefits?
This treatment provides multiple benefits such as tightening skin, minimizing fine lines, smoother texture, decreasing pore size with an overall refreshed and revitalized appearance.
How many sessions are needed?
A series of 3-6 treatments are recommended for optimal results.
How long and how often are treatments?
The session lasts approximately 45 minutes and is held every two weeks. Carito Silva
I finally found a place that feels like home, Idalis is not only a great person but also very honest and professional. She was very clear about what was good for me and what wasn't good for me, quite sincere. That is very important to me as I am very careful when it comes to my body. I love it, very satisfied. Monica Serje
I had a great experience at Renew Esthetics with my laser skin rejuvenation treatment, my skin now looks much smoother and younger. I highly recommend this place with purely professional attention. Thank you Idalis. Karen E. de Parrilla
I came from Albany to New York to renew esthetic to get the skin rejuvenation laser treatment in the hands of the professional Idalis Bailey, this is my 3rd section and the results are very good, I recommend it to everyone!