Treating Pigmentation with Chemical Peeling
Chemical peels are a method of regenerating and resurfacing the skin by using professional products to achieve the desired skin appearance. Chemical peels are applied to the skin, which makes it "blister" and eventually peel off, removing the top layers of the skin. The new skin is usually smoother and less wrinkled than the old one; therefore it improves sun-damaged skin, pigmentation problems, wrinkles, skin texture, and the overall appearance of the skin.
The strength of the chemical peel is determined by its depth; deeper peels will have a greater number of effects and a longer recovery time, but also will result in a greater improvement in the skin.
How is pigmentation treated with chemical peels?
Pigmentation treatment involves chemical peels with 20%-50% salicylic acid concentrations, or trichloroacetic acid (TCA). The chemical solution is applied to the skin removing several layers of sun damaged skin cells to help gain a smoother skin and to reduce areas of darker pigment spots. The peel also stimulates the formation of new collagen, which helps improve skin texture as well.
There are different peeling levels that fit into every skin type according to its needs:
For superficial depth level, Salicylic acid is ideal to treat uneven pigmentation and acne.
For medium depth peel, the TCA peel is mainly used to treat fine surface wrinkles, superficial blemishes and blotchy pigmentation.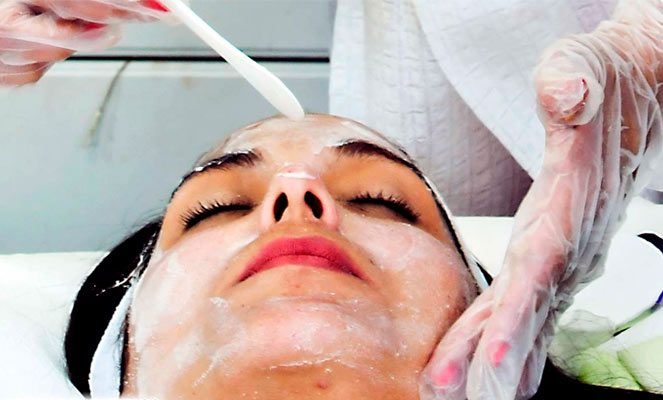 Chemical peel treatments may take up to one week for the renewal and rebuilding process to allow your skin to return to normal and see results. Specialists recommend getting a custom peeling treatment that combines different levels in order to achieve the desired results because light peeling is usually not enough to see the improvements in the skin. However, the highly skilled esthetician will advise on the appropriate peel level.
The session only takes 15 to 25 minutes; the treatment must be administered by a skin care specialist, esthetician or dermatologist. The patient is able to return to normal activities immediately after a chemical peel. And, for optimal results, a package of 4 chemical peels is recommended, getting 2 sessions monthly is enough.
Chemical peels are recommended to patients with open pores, dull, tired skin, where there is a loss of glow. One of the greatest benefits of a chemical peel treatment is that it improves the skin tone and it can heal discoloration and scars on the face.
If you need more information about chemical peels, we recommend having a skin analysis by skin professionals and knowing what type of peel your skin needs.
At Renew Esthetics Medical Spa we have the best skin care treatments, in the hands of the professional Idalis Bailey, with more than 15 years of experience, we invite you to visit us in Astoria, Queens, New York.  Ask for your complimentary initial consultation and you will receive the best personalized attention, skin analysis and professional guidance about the treatment you need. 
Idalis Bailey is a graduate nurse from the Metropolitan University of Barranquilla, Colombia. Later he served as head of pharmaceutical products for Latin America, in Buenos Aires, Argentina, for the company Sanofi Pasteur for 10 years. In this same country, he completed an MBA in Marketing and Business Administration at the University of Palermo.
In 2004, Idalis decided to move to New York to fulfill her goal of establishing her own business and opening Renew Esthetics MediSPA, which has been licensed by the State of New York for 15 years and specializes in non-invasive aesthetic treatments performed with state-of-the-art, state-approved equipment. FDA. Bailey is a New York State Licensed Medical Esthetician and Laser Technician, CEO of Renew Esthetics Medica SPA, located in Astoria, New York.