Laser Hair Removal in Summer
Dealing with unwanted body hair is the worst, especially during the summer season when we only want to be relaxed at the beach looking good in a cute bikini and not thinking about anything else.
While shaving or waxing can temporarily get rid of any unwanted hair, these are painful options that can lead to cuts, stubble and ingrown hair; Laser hair removal is the best option to remove unwanted hair with long lasting results by quick and painless sessions. 
Now, the real question is: Is Laser Hair Removal safe during summer?
Absolutely! Laser hair removal is safe all year round. The only difference is that the treatment preparation and sun safety is key during summer. You have to look for a skincare clinic that uses the right laser machine and can guide you through the process by explaining to you all the pre and post care instructions so you reach your skin goals. 
At Renew Esthetics Medical SPA you can find Skin Care Specialists with years of experience performing laser hair removal services with advanced FDA approved technology, providing effective results and satisfying customer service.
Tired of feeling pain by using wax or cut by shavers?
With laser hair reduction there won't be more pain; you'll have long lasting results that work on every skin type.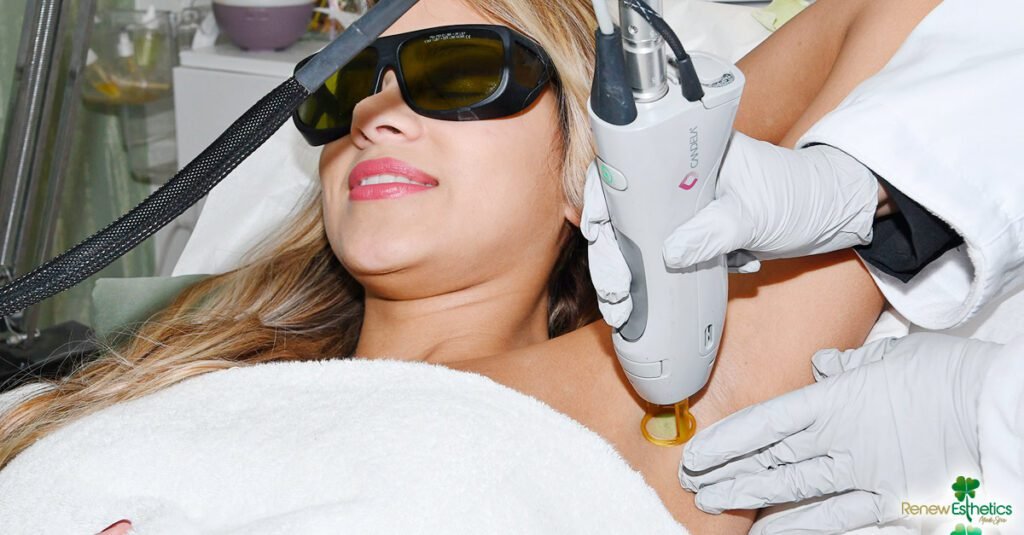 How does the sun affect the skin after Laser Hair Removal?
Laser hair removal works by emitting a specific wavelength of light to target the hair follicles at the root, essentially destroying them, and provides long lasting results. But what happens with the sun? Since the laser works with heat, the sun can make your skin more sensitive, and it can cause burns, hyperpigmentation and scarring on heat sensitive skin. 
So, it's important to keep your skin protected from the sun and tanning at least two weeks before and after the treatment to avoid permanent skin damage and get the best results. And I know, it sounds impossible not to be exposed to sun in summer, but if you are getting a laser just need to slather on a high SPF sunscreen on the treated area to protect your skin, use hats and try to cover the area with clothes and If you experience dry skin after the treatment, you can apply a fragrance-free lotion or aloe vera gel to hydrate the skin safely.
Although it is extremely important to limit direct sun exposure before going under the laser, the idea that it isn't safe in the sunny summer months isn't true. Just need to follow safe instructions, that is why we bring you the following tips when getting laser in summer according to our Skincare Experts:
Wear sunscreen and take care of your skin:
This is another imperative instruction, sunscreen is a MUST in your everyday skincare routine, even if you aren't undergoing laser hair removal, but if you decide to do it, it's absolutely necessary.
Regardless of whether you undergo laser hair removal in summer, you must apply an after-sun moisturizing lotion and drink enough water so your skin remains hydrated from inside out and avoid dryness.
Be patient and give your skin time to heal:
The laser hair removal treatment opens your pores, so your skin will be extra vulnerable and susceptible to infection following a treatment, so you'll have to take certain precautions while your skin is healing. Avoid going to the gym, sauna, jacuzzi or swimming in the ocean or pool for at least two days after your laser session. It's also important to avoid exfoliating your skin for at least five days following a treatment.
To sum up, with the proper precautions and an experienced skin care clinic, you can safely undergo Laser Hair Removal during summer, just need to remember that pre and post care is key to safely achieve your desired results.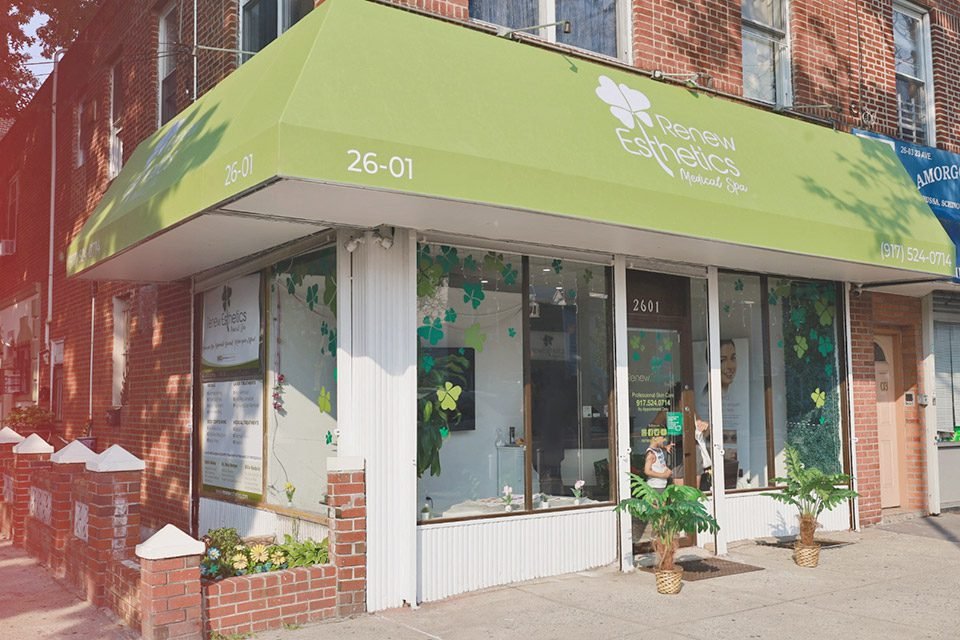 At Renew Esthetics Medical SPA we guarantee that our Skincare Experts will be by your side during all the process taking care of your needs and answering all your questions so you feel safe and achieve optimal results.
We are a Medical SPA located in the heart of Astoria that focuses on providing professional quality services using FDA approved technology and following all safety protocols to make sure that our services fulfill their expectations.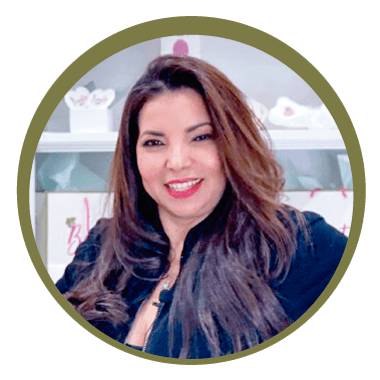 Nurse, MBA – Marketing, NYS Licensed Medical Aesthetician & Certified Laser with more of 15 Years Experience